Full disclosure – I have been lent a pre-production prototype of the Ago Film Processor to test and review. After the review period I will have the option to purchase the unit or return it to Vintage Visual.
What it is
The Ago Film Processor is a rechargeable, battery-powered device that allow the user to non-destructively convert a standard Paterson hand-processing tank into an automated film processor that operates either vertically (using the centre spindle for agitation) or horizontally, as a rotary processor.
The Ago itself is small and light enough to hold in the hand, and fixes easily onto the top of a standard Paterson film developing tank, covering around half of the top funnel. The package also comes with a hexagonal plastic stand that attaches to the bottom of the tank and allows the whole assembly to be laid on its side for use as a rotary film processor.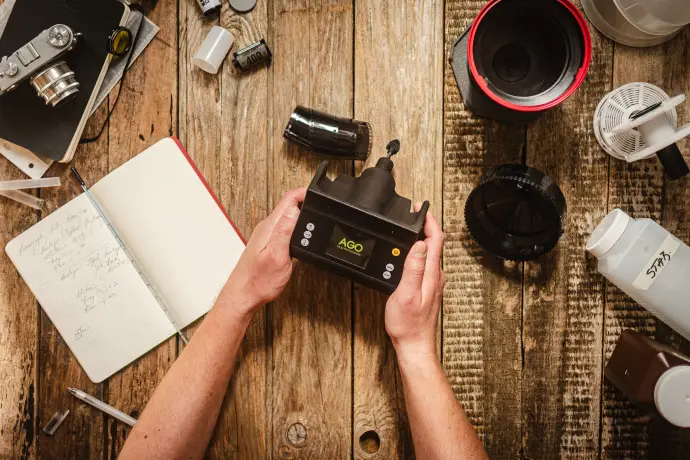 What it does
The Ago Film Processor has a colour screen and the user interface is operated via a membrane keypad, the screen and a sounder. Different programs can be selected for different processes (my prototype unit allows for Ilford Black & White chemistry, and three brands of C-41 Colour chemistry), and the timing of every step of the program can be adjusted for different films and developers
When it's all set up, you simply pour in the developer, press "Start" and let the machine do the work for you until the alarm lets you know that it's time to pour the developer out again.The unit remains in place during pouring, then is put back on its side for the next phase of the program. The same routine is used for the other chemicals, with agitation taken care of by the built-in motor and the times clearly shown on the screen.
Why it's different
As the Ago Film Processor doesn't contain a thermostatically-controlled water bath, or a heater of any sort, you may wonder why it's more convenient than hand-processing, but the Ago has a few tricks up its sleeve.
Firstly, the horizontal orientation allows for genuine rotary processing, which is faster than normal agitation and uses a lower volume of chemistry, making it more economical.
Secondly, there is a thermometer built into the Ago, which continually monitors the temperature of the chemicals and adjusts the processing time according to built-in compensation curves, which have been trained using the chemistry datasheets. It can't be overstated how much of a game-changer this is, as it turns the traditional processing paradigm on its head.
Rather than having to ensure that your fluids and tank are all at the correct temperature, the Ago allows you to be somewhat more casual with your measurements (within reason!). It's a hot day and your chemistry is at 23C instead of 20C? No problem, it will just reduce the processing time accordingly. If you're in a really cold room and your tank cools down during a colour developing session, then the continuous monitoring will simply increase the time to compensate without any intervention.
The Ago Film Processor itself is very compact, and recharges via USB-C, so does not need to be connected to mains electricity during use (this is a huge advantage in UK bathrooms, which don't have power outlets in them!).
The conversion of the Paterson tank to automated film processor is temporary and reversible, so you can still use them by hand if you wish. In fact, this is how I wash my film after developing – I remove the Ago, fill the tank up with water, pop on the Paterson lid and use the Ilford Method to wash. It also means that you can use whichever size of Paterson tank suits your current developing needs – If you have three films to do today, then use a three-reel tank. Just the one? Then use a smaller tank and save on chemistry. You're not having to convert a tank permanently to use as a processor.
Preparation
With that said, there is one thing that needs to be done before you can use the Ago Film Processor. In order for the chemistry to flow properly into the tank in a horizontal orientation, three 13mm holes must be drilled into the side of the Paterson tank funnel before use. This seems daunting and a bit brutal, but an adhesive template is provided in the box and the plastic cuts cleanly without cracks or burrs if you use a sharp drill. The holes do not affect the light-tight nature of the funnel, so it doesn't harm the normal use of the tank. I notice that Vintage Visual also offer pre-cut funnels on their website if you're not feeling brave enough to do it yourself 🙂
First impressions
As I received a pre-production Ago Film Processor, the retail packaging has not yet been completed, and the finish on the parts is probably not to the final standard. However, the box was well-packed and included 2x 3D-printed tank stands, 2x adhesive funnel drill templates, the Ago unit itself and the outer sleeve of the retail packaging that includes a QR code to access the user manual.
I put the unit on charge, via the USB-C connector and it was soon ready to use.
Once I'd drilled my funnel and loaded up a tank with a test-roll of film (I thought it best to use something I didn't have strong emotional attachments to for the first test, so I found a 120 roll of Fomapan 100 that had been sitting around for years waiting for me to develop it. As usual, I hadn't marked it, so the contents were a surprise! It turned out that they were photos from a Pinhole camera), I fitted the Ago unit to the top with a "squeak" from the O-ring rubber seals and adjusted its position so that the tank would sit flat when I added the push-fit base.
Laying the unit on the side (vertical use is also possible, but the temperature compensation is deactivated because the thermometer is not in contact with the liquids in that orientation), I switched on the display and quickly figured out the user interface. The PDF user manual and the display together clearly show you how to change the timing values.
In use
To use the Ago Film Processor in rotary mode, you need to know the times for a rotary processor. For black and white, the simplest rule of thumb is to take the standard agitation times at 20C and subtract 15% (for colour, just use the published times for C-41). The Massive Dev Chart App is very handy for finding those times. In my case, Fomapan 100 in Ilfotec DD-X (1+4) at 20C gives 8m00, which becomes about 6m50 for a rotary process.
I set up all the times for the various stages, poured in the developer and hit "start"… but after a couple of minutes I noticed that I'd accidentally started the unit in "Rinse" mode, rather than "Dev" mode, so I quickly knocked a few minutes off the development time to compensate and restarted in the correct mode. My tap water was a little warmer than 20C, at 23C, so after a few seconds agitation, the Ago informed me that it had further reduced the development time by around a minute and a half to compensate.
Not expecting much in the way of results now, I duly completed the remaining steps (it was very straightforward after that). At the end, rather than use continually running water and Ago agitation, I decided to remove the unit and carry out my usual Ilford method wash, which uses considerably less water.
One point of note is that I didn't see a single drop of liquid spill from the horizontal unit throughout the entire process. I had placed it in a tray, just in case, because I wasn't expecting much from a prototype in terms of water-tightness, but my fears were unfounded!
Results
Pulling out the film from the tank, I could finally see what I had! The negatives themselves were well-developed with well-defined edge-markings and no light-leaks. The images were pinhole photos I'd taken some years ago and lost track of. The exposures were unsurprisingly all over the place (guessed!), but the processing was as good as I've seen from Fomapan 100, so I called the first test a win and set about trying something a bit more representative.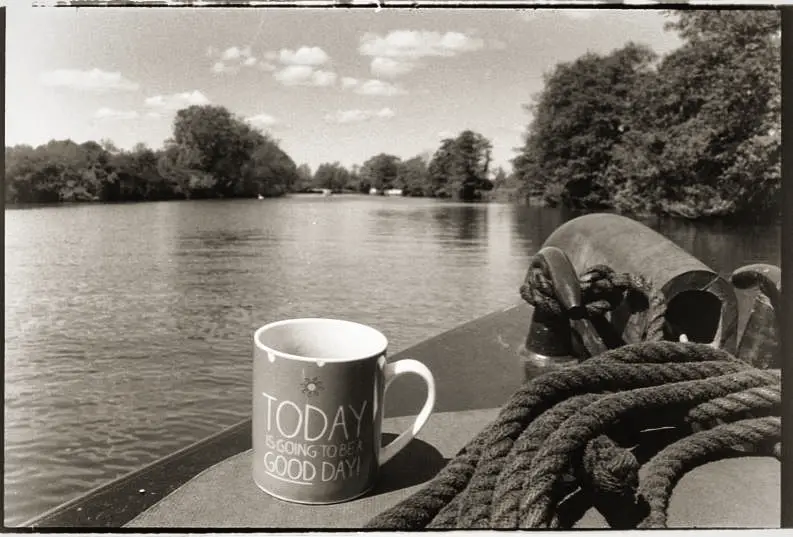 Since then, I have processed three more rolls – A bulk-loaded 35mm Ilford HP5+ (in DD-X), a 120 roll of Ilford Delta 400 (also in DD-X) and, just for kicks, an expired 35mm C-41 roll of Kodak Gold 200 in the only colour chemistry I had to hand, which was actually used RA-4 developer and blix from my Colour reversal experiments. I had read somewhere that RA-4 and ECN-2 used similar developers and figured it was worth a shot!) – The black and white negatives were developed perfectly, despite deliberately sloppy temperature controls on my part to try to trip it up (One roll was processed at 26C, which is above the official 24C automatic compensation limit, but despite a stern warning from the Ago, it still managed to give excellent results!). The colour film I expected very little from, but I did actually get some colour images with believable colour, which blew my mind a little bit. They're a bit grungy because the film was expired, the chemistry was wrong and used, and the photos were taken on a prototype half-frame camera with a meniscus lens, but they have their own charm!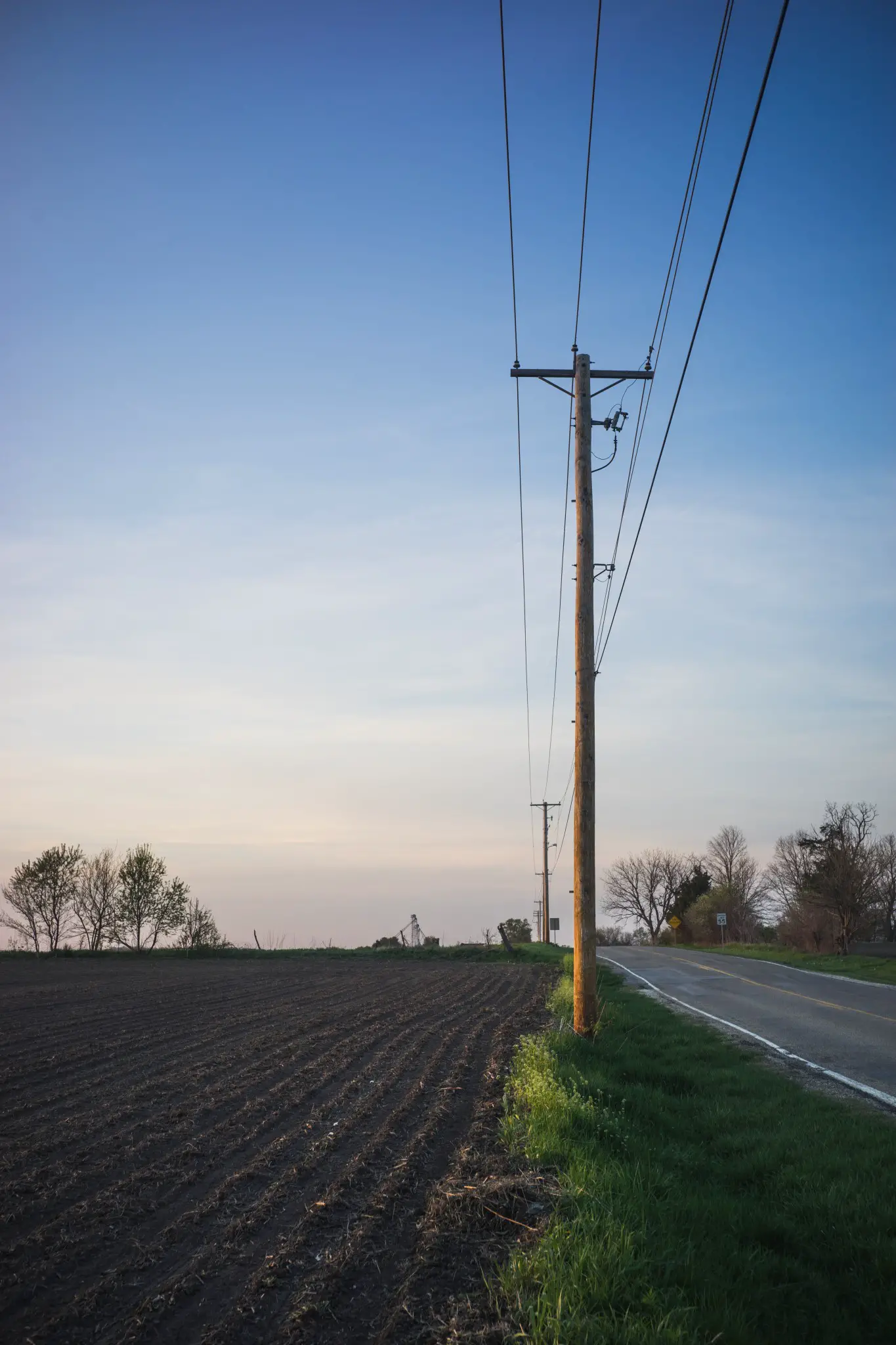 Critique
Although very impressive, the Ago Film Processor does have a few quirks that I hope the developers will be able to iron out before the mainstream release. My unit had a flickery backlight when the motor was running; the battery charge mode gives no indication as to the charge level; if the device switches off before you press start, then you lose any changes you made to the default timings and have to input them again; and I can see that it might be possible to press the wrong button by mistake during a session and accidentally switch it off because the buttons are all the same shape and size. The built-in temperature compensation programs are currently limited to Ilford (BW), and Tetenal, Bellini & Cinestill (C41).
With that said, I was very impressed with how easy the Ago makes film developing. What can sometimes seem like a daunting task becomes really straightforward. Without having to worry too much about the temperature of your chemistry, and knowing that the agitation is all taken care of for you really simplifies the whole enterprise. I found myself reading a book while it was working; the comparatively quiet motor gently trundling along back and forth is surprisingly soothing!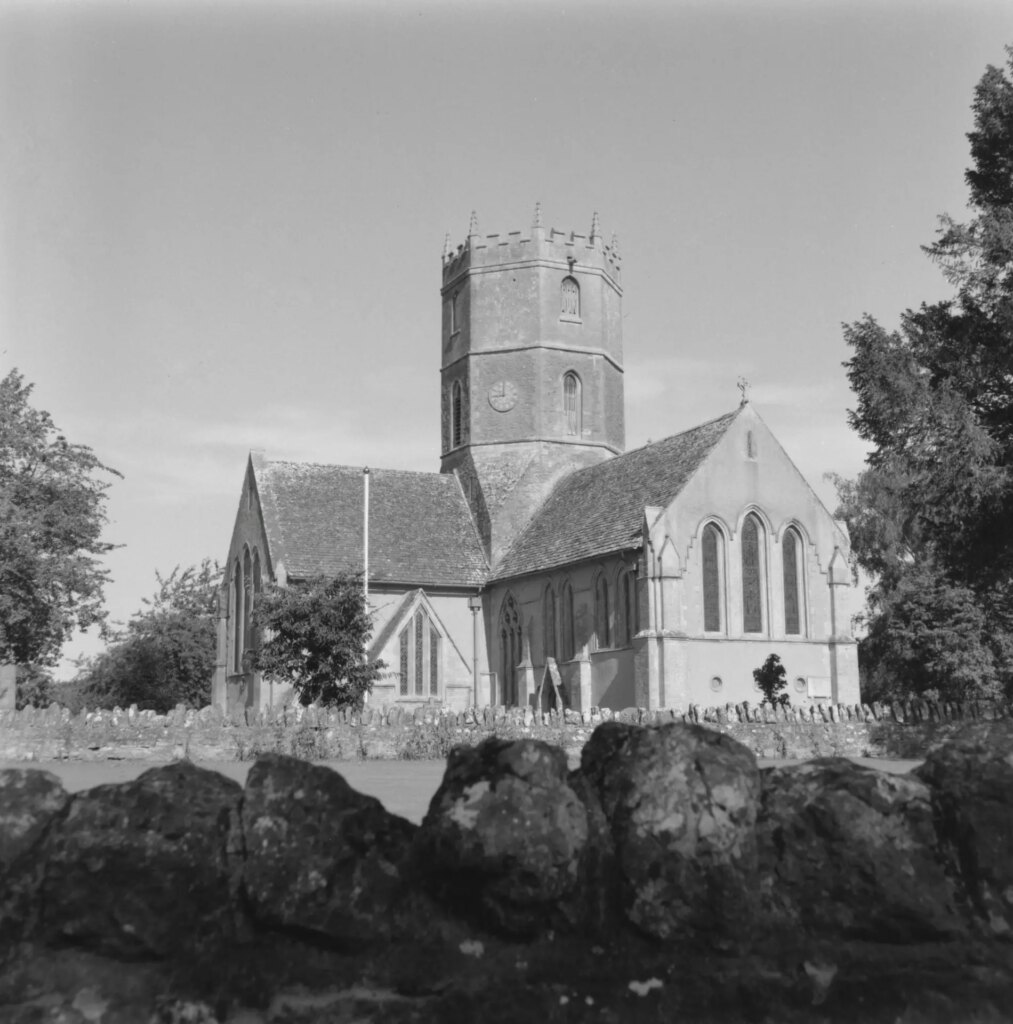 Overall conclusion
I can see that for somebody new to processing, this would be an excellent way to take some of the trepidation out of the idea. Knowing you're able to get consistent results on hot or cold days and use less chemistry while you're at it gives great peace-of-mind.
For the more experienced film developer, it removes some of the opportunities to make mistakes, and makes small-scale developing very easy to do on a whim without having to be too precise with temperatures.
For a workshop, the Ago Film Processor would be a fantastic way to quickly and reliably process several films at once. It could even be used "in the field" (even literally!) if the temperature of the chemicals were within the recommended range.
The Ago Film Processor smaller & easier to store than a standard rotary processor. It is cheaper as well, by virtue of piggybacking on a pre-existing system that many users are likely to have already. It is portable and could easily be taken on a trip. It is battery-powered for safety and gives great results.
You may be able to tell that I've been rather won over by this clever little gadget, and I expect that when the time comes, I will happily hand over my money to purchase it, rather than send it back to Estonia whence it came!
If you'd like to get your hands on a Ago Film Processor as well, then the Indiegogo campaign has just launched. 
Contribute to 35mmc for an Ad-free Experience
There are two ways to experience 35mmc without the adverts:
Paid Subscription - £2.99 per month and you'll never see an advert again! (Free 3-day trial).
Subscribe here.
Content contributor - become a part of the world's biggest film and alternative photography community blog. All our Contributors have an ad-free experience for life.
Sign up here.