A new compact automated processor for home film developers or small labs is coming soon to IndieGoGo. Designed and created by the team from Vintage Visual, the AGO processor helps automate the film development process, including a unique and exciting time compensation system.
After seeing a gap in the equipment available for non-commercial or smaller volume film developing, Arno Peever, a mechanical engineer from Tallinn, Estonia, set out as part of his master's thesis to create a compact option that is more affordable than current alternatives. The team has grown along the way to bring the AGO processor to life including coding expert and developer Indur, Arno's brother Ahto on financials and marketing, and friend Hu's contribution of a PCB (printed circuit board). The final product design is creative, compact, and yields excellent results according to early testers.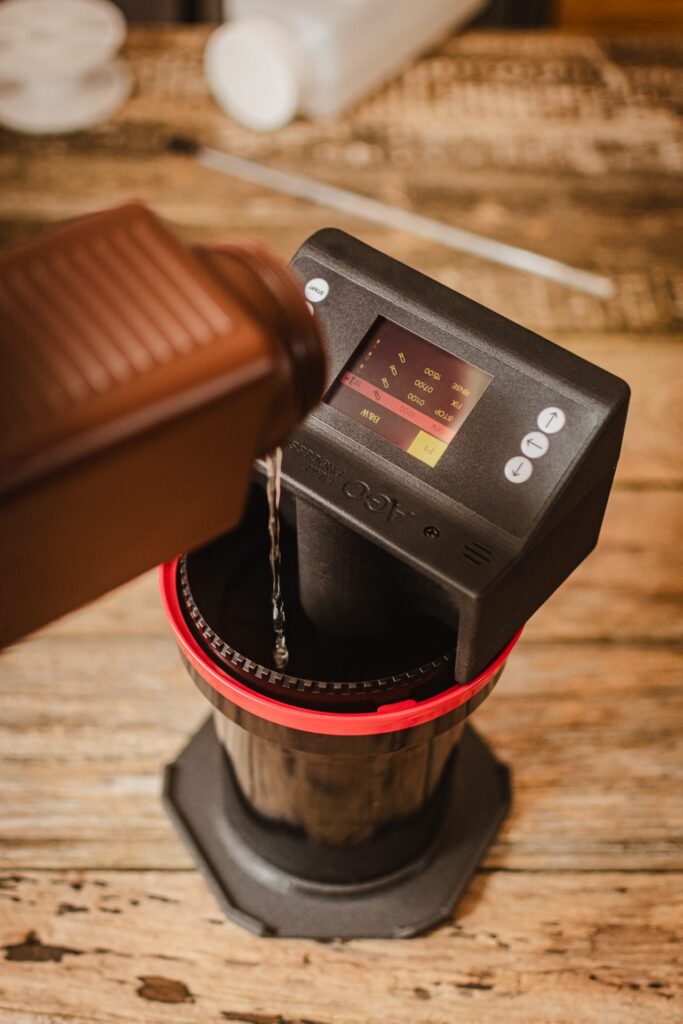 The AGO is compatible with Patterson developing tanks, a design decision made because these are one of the most common options available. The agitation is powered by a small DC motor and everything is controlled via a screen on top. It can be used in either horizontal or vertical orientation with an adjustment to the development time when used horizontally. Using the AGO processor in the horizontal orientation can also save you up to 60% on chemicals used depending on the tank size.
The software is designed with a unique algorithm that uses a sensor to read the temperature of the liquid poured into the tank and then adjusts the time needed to develop. Very clever! This function is set up for black and white and C-41 chemicals at the moment, but programming for more processes like E6 can be added later.
While the AGO automates the agitation and controls temperature, it will also notify users when it's time to change chemicals and specifically which ones to avoid mixing up the order of operations.

The IndieGoGo campaign will start on October 3, 2023, with the Early Bird backing option at 320 EUR and the later tier at 350 EUR. Arno will be attending the Analogue Spotlight event in Nottingham on October 14 & 15, 2023 at NonSuch Studios for anyone interested in an in-person peek at what AGO can do! If you'd like to test a unit, Vintage Visual launched a beta sales campaign for Europe for around 30 users to buy the unit early and share results and experiences to improve or adjust the product.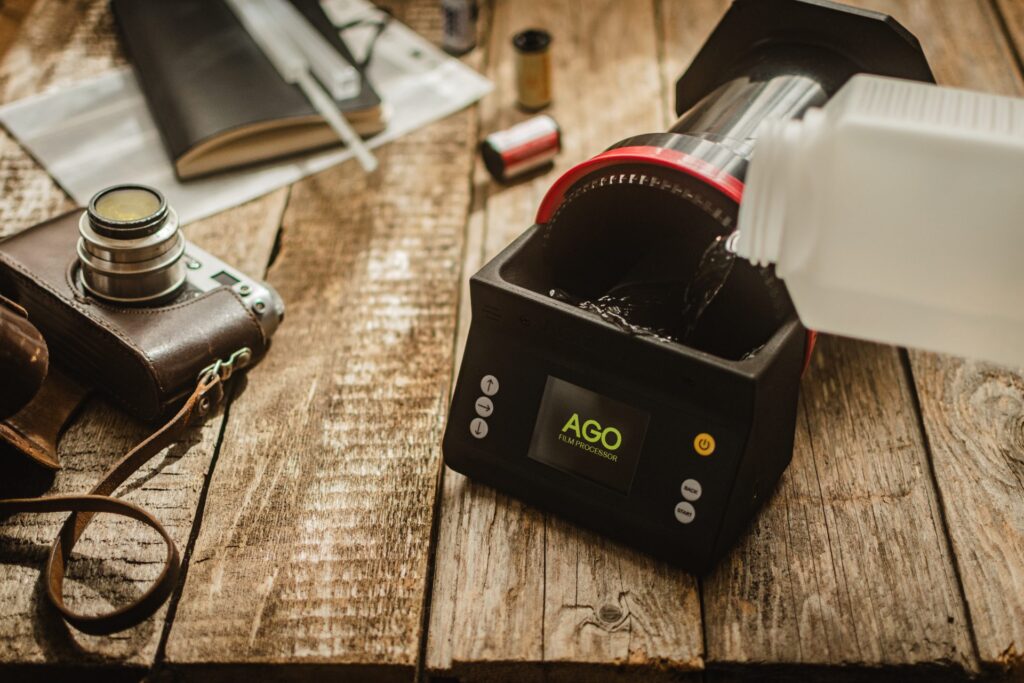 A few early testers have shared their thoughts already and you can read these on Vintage Visual's blog here. Raul Keller, an artist from Estonia had a positive experience using the AGO for trying out color film development, something that was not a usual process for him.
"The experience was entirely positive. As I expected, the development of the black-and-white film was as anticipated. Everything worked, the process was fast and convenient…Even the development of color film was a positive experience, especially since I don't work with color film on a daily basis. The results were good, the films were properly developed, and with a bit of tweaking and color correction, the results were as expected. In addition, the entire process was extremely convenient and clean. My hands didn't come into contact with the chemicals, I didn't have to be constantly surrounded by chemical fumes, and nothing leaked." – Raul Keller (Source: Vintage Visual Blog)
Jahan Saber reviews the AGO on his YouTube channel, check out his video here:
You can also read more about how the AGO was used at a photography camp called the AMBULARTOORIUM here.
For more information on the campaign or to sign up for updates, visit the IndieGoGo page here.
Contribute to 35mmc for an Ad-free Experience
There are two ways to experience 35mmc without the adverts:
Paid Subscription - £2.99 per month and you'll never see an advert again! (Free 3-day trial).
Subscribe here.
Content contributor - become a part of the world's biggest film and alternative photography community blog. All our Contributors have an ad-free experience for life.
Sign up here.