This is the second of two articles about the Trip 35. The first is here, and that one is a simple review that deals with using the camera as it was intended. In this second piece I talk about how the camera came to Italy with me and we got all arty together.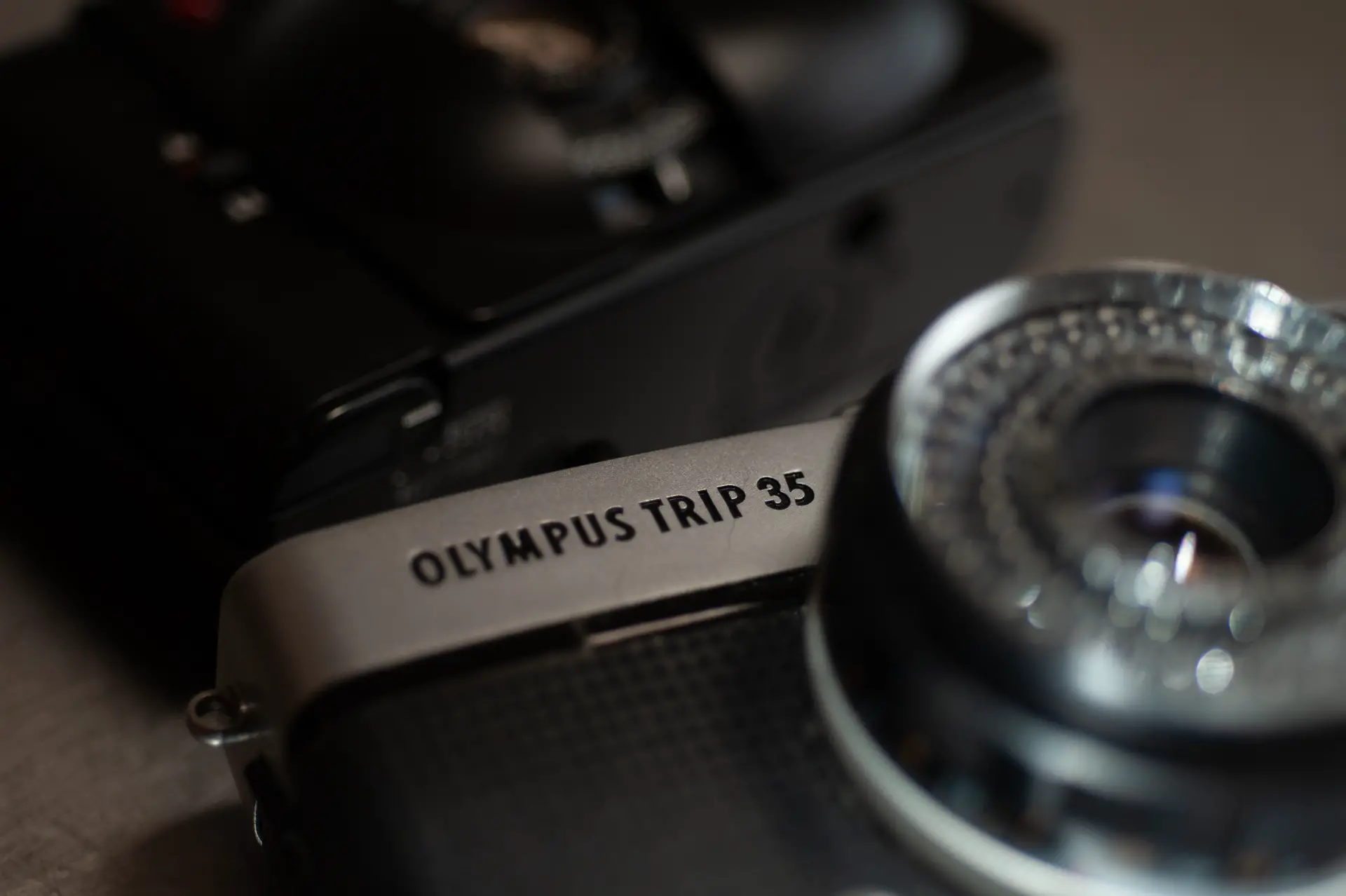 A bit of history.
The Trip 35 almost did not come on this holiday. I already had three film cameras and one digital with me as well as my phone. In my defence I did have a specific project in mind for the Venice part of our trip, and had packed my Nikon FM2 and Agfa Isolette III 6×6 folder purely for that.  In the first part of the trip we were going to the Prosecco Hills and Dolomites. For that I just wanted to make snaps and had taken an Olympus XA2. I was also documenting our trip with little photo essays on Adobe Spark and had taken my small digital Fuji XE-2 with the pancake 27 mm. Good, safe images but a bit sharp and boring.
Finally, when everything was packed up and ready to go I could not help myself and threw the Trip 35 into my bag.  I won't repeat what I've said about the camera already, if you would like to read things about the Trip 35's functionality please go back and see part one of this series.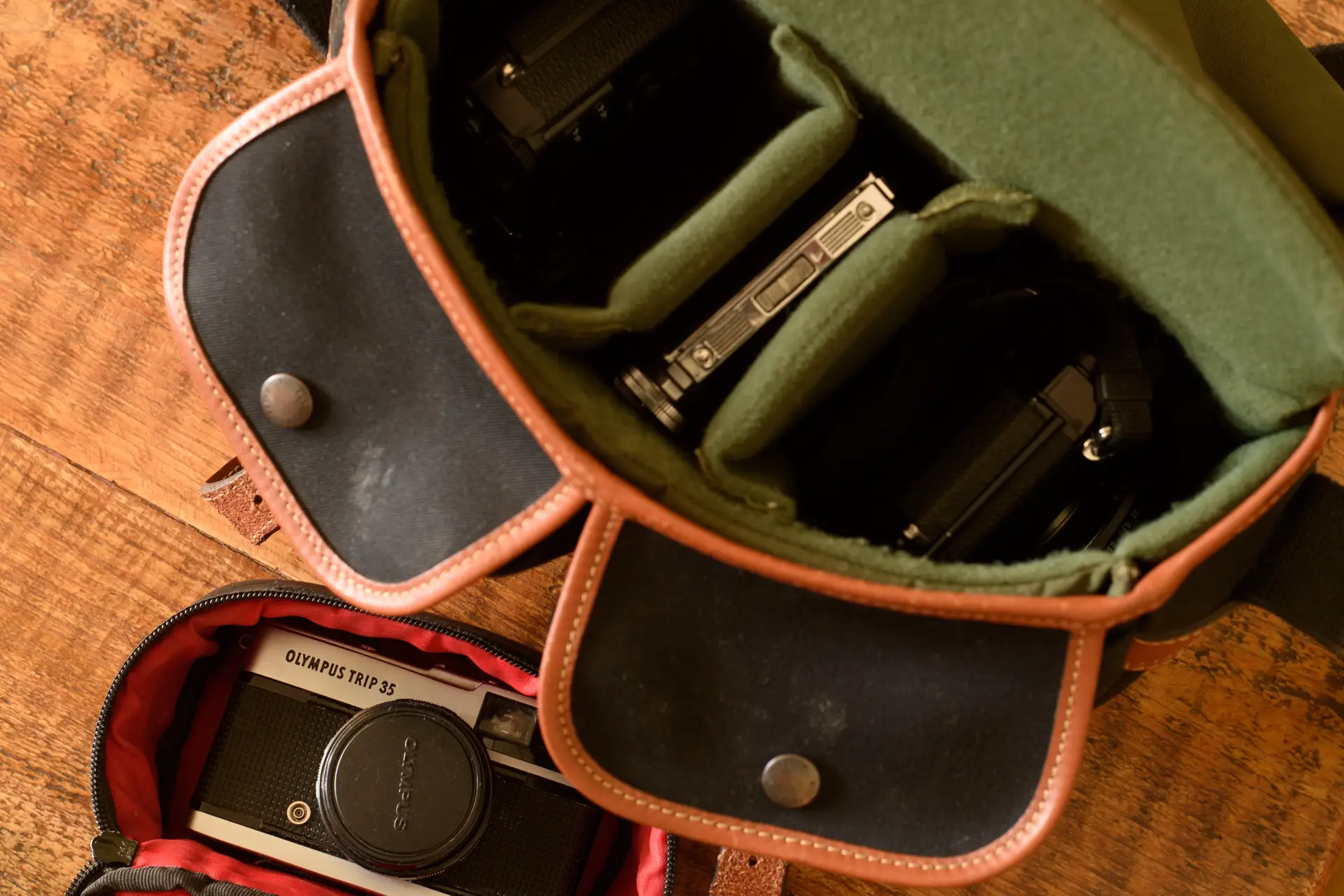 The further I went in writing this second article the more I began to think it's not really about a Trip 35 after all, it's more about experimenting and pushing whatever gear you have to try out ideas. But let's jump in and you can make up your own mind about that at the end.
Panos in the Dolomites.
For snaps in the Prosecco Hills and Dolomites the XA2 was fine, but it's not as nice to use as the Trip 35 – mostly because of being a bit hard to hold because it's so small. I'm not saying that's a fault – its size is why I brought it along, but as things turned out, the pace of the trip was nice and slow, and I never had more to take than a daypack, and I didn't mind taking the Trip 35 – so I ended up carrying both. I didn't really take many film shots because I wasn't inspired to do so. I was quite happy to make shots on digital to share with the folks back home. I'd shoot the Fuji, edit in Lightroom Mobile on my iPad and share. That way I also had a Cloud backup of my shots. All very easy and efficient.  And then one day I was taken by a scene and started thinking panoramas.
In olden times (pre digital) if you went on a holiday to the mountains you could make panoramas by overlapping your shots and sticking the prints back into an overlapping panorama in your photo album at home. Like a flat Hockney joiner. Well, I'd been mucking about doing that in-camera, by only partly winding on the film between exposures so they overlapped. I'd only done this with my 6×6 folder before, starting on that first NZ trip from the other article. So – to clarify; what you see here is what's on the neg; it's not done in post.
I'd been thinking about this technique because I was planning to do that in Venice. It wasn't really about panoramas there, it was more about art theory, and how we built up an image in our minds by making many small observations. I wanted to compare that with how the painter Canaletto did it when making his Venetian paintings. He'd make many small sketches and then use those to construct a large work. So this was on my mind, but I wasn't going to use up my roll film in the Dolomites, I was saving that for Venice – I'd just taken three rolls of 120 Portra with me for that part of the project.
One day Margot and I were on a walk and there was a group of horses in front of us; I HAD to try something. I wanted to capture something beyond what I was seeing in the viewfinder. It would be a nothing shot with one frame but might be something if I could stretch it out.  I formed the idea that IN THEORY I could do the overlapping exposure thing with the Trip 35. If you press the rewind button on the bottom it will disengage the gears that wind the film on, so the shutter will cock with the film going nowhere. (This is how you're supposed to do multiple exposures in a Nikon F2 by the way) The problem then becomes getting the film to move at all, but I figured the friction of the take-up spool might pull it through a bit, and you could gauge this by seeing how much the rewind crank was moving as you wound, and controlling that with a spare finger. Now – if you're reading this and going, "What the HELL is he talking about?" that's fair. I think with things like this it depends on how you brain works. I guess I'm saying I can't really explain it better than this – If it makes sense to you, well and good. AND I need to say that I've tried it since and just wasted film because it didn't work at all. There are so many variables involved with both camera and film. The point is mostly about having an idea and mucking about and seeing what happens.
I ended up making about four or five of these panos successfully with the Trip 35, and about the same number of duds. Bear in mind though, I had never tried this with this camera before, and it would be a month before we would be home and I'd know if it worked. I'll admit I did feel reasonably confident though, because of having done it in my 120 folder. I had an idea of the exposure latitude of Portra 400 and my intuition was telling me there might be something on the roll. The other good thing about this is that you can mix it up with normal frames as well, so even if the panos are screwed you should at least get the normal stuff.
I do think that shooting this way is a bit more like how we actually see. Our eyes do have fixed focal length  (pretty much) and when we want to take in a scene we do it in little bites. Just my thoughts, anyway.
Looking through my travel images again to write this I am struck but just how few decent images there are. I'm not being coyly modest – there are so few decent ones it's not funny. I wonder how little we should shoot? One of the good things about film is that it makes you shoot less, but it's probably still too much by my reckoning. I'm thinking  back, too, to the age of the great pictorial magazines – the photo essay. How should we tell a story with photos? These panos remind me of being there and looking around the scene in a way that simple shots do not.
Venice Snaps.
Anyway, let's head down away from the mountains and hit Venice, shall we? I've written about Venice on 35mmc  too – there's an article on inspiration here that contains a few 35mm black and white (HP5) shots from this same trip that you can read here. They were shot on my FM2 though, and I've decided to only put shots taken on the Trip 35 in this piece.
But these shots do highlight to me that you really need to make a decision; you can't have two bob each each way on what you shoot. I had too many cameras with me. I should just have shot with one, but I had three plus digital. Anyway, it worked out okay in the end.
God; looking at this now makes me feel a bit sad for the wannabe influencers. I can't see this working out for her. Those two guys with tripods just happened to be there, by the way, so they joined in. Fair play too I'd say – if you're out in a public square making content you can't be too precious. There is a sort of camaraderie and respect between the Insta snappers I've noticed, but all this is so recent these rules may have changed by now anyway.
And here's a bog standard shot over the laguna. How many shots do you need?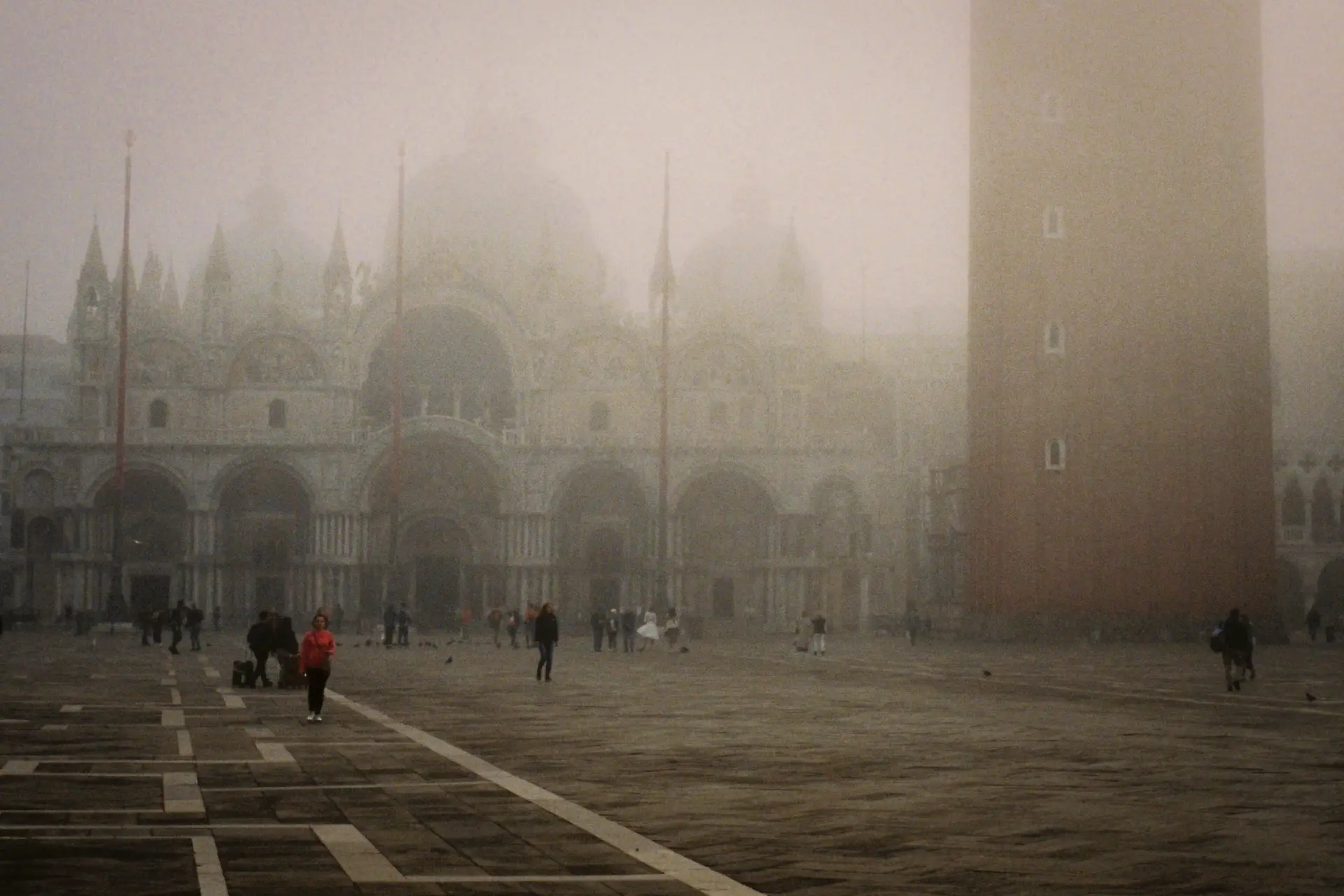 The Venice Panos.
As I said, I'd brought my  6×6 folder (Agfa Isolette III) with me to make some panos, and I thought I had some good ones so I also played with the Trip 35 for fun. So here's a pano of San Marco I shot with the Trip 35. It didn't work out so well – there's heaps of repetition in it. But on the other hand I did end up using three crops from it for an exhibition. There's a few things I could point out here.
Okay – here's the original shot. What you can tell is the film was not winding on as much as I thought, so I'm panning way too much between each exposure. That doesn't rally matter in the end though.
Here's one crop from the above. It's overworked with pastel and paint a bit too. This is printed at 140cm by 70cm. Now – have a look in bottom left of the pano and you'll see this woman with the blue jeans and white hat. Now look at the next shot:
Here is that bit also blown up to 75cm x 75cm. There's a few things I like about this. Mainly it's the guy with the white plastic bag on his arm pointing something out to the two women next to him. The three of them are really just a few lumps of grain, but I love what you can tell from this; It looks like the guy is a bit of a know-it-all, "Look over there ladies – you'll see the clock tower from 1472.." etc. There's some interesting visual things going on in that frame but for me the relationship between those people is what makes it. This was especially interesting for me because Canaletto was  famous for being able to put an expressive figure into a work with just a minimum of detail. I think it's wonderful how much we can read from so little visual information.
And in another piece I turned that crop into something else by painting and drawing over the top of it. Again this is 75cm square. This piece ended up being the hero piece of my show  – and it's from a Trip 35.
Window selfies.
It's a bit of a thing of mine to make window selfies whenever I go to Venice. It started in January 1994 when I was on a painting trip so I'll have to put that frame (not on the Trip 35) to start the story rolling, even though I said I'd only put Trip 35 shots in this story.
This first one was just by chance when I was out walking. I was shooting an RB67 with Fujichrome Velvia 50 metering with a Weston Master 3. It's worth mentioning that in those days you could get 24hr E6 processing in Venice, so I could shoot one day and see it the next. It's a fine day but this was January and about 0 degrees, hence the coat and gloves. I also had an SX70, a Minox 35GT and a Nikkormat on that trip. I was by myself and I guess I just wanted a record of what I was doing. Anyway, I'm glad I have it. So since that time, whenever I'm in Venice out shooting by myself I do a window selfie or two as a sort of tradition.
This one looks artier than it actually is. The deal was there was a piece of mirrored glass behind the iron gate, so where my shadow falls on the glass you can see through into the courtyard behind the gate. You can also just make out the Trip 35 in my hand. I think it looks a bit like some sort of surrealist montage, but it's just a straight-up frame.
This is a double exposure obvs. But I don't think I even meant to do this. I looked at the neg and one shot is inside a gallery and one is outside. I can only guess I pressed the rewind button on the bottom of the camera by mistake out of force of habit. Anyway, it's moderately interesting.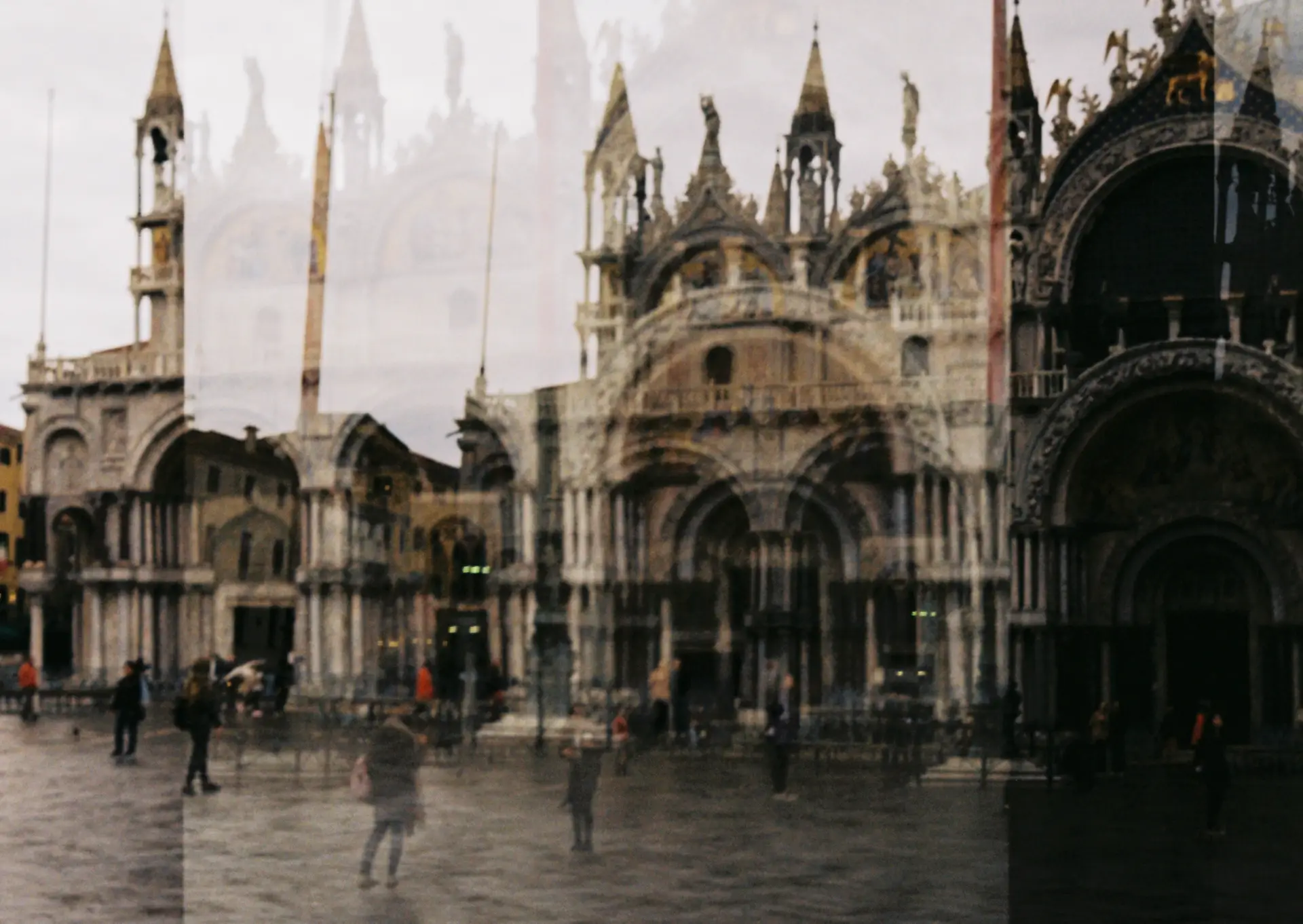 Wrapping up.
So what's this all about then? When I started I just wanted to write something about the Trip 35; I guess to say how the camera itself is less important than intent. There's not any great skill or vision here – but I do think that maybe it's about questioning what is we're doing when we make photos. Part of it is about intent. Did I want a snapshot to record a moment, to experiment, or maybe to make something a bit new? Certainly with the Trip I had no intent to use those to make works I would exhibit, and yet it became the most-used camera in the show I had. Here's a link to the show if you're interested. Part of it, then, is about keeping an eye open to what you have. Considering ways of using shots to make something you might not have intended at the outset. Another is working in series. I don't think it's very successful in this article to just include one or two pieces from an exhibition with a bunch of snaps, experiments and selfies, but in doing so I hope that perhaps I can highlight a way of thinking and seeing, of keeping an open mind and an eye open to possibilities that might perhaps be useful to others, or at the least make for an interesting read!  Cheers.
Contribute to 35mmc for an Ad-free Experience
There are two ways to experience 35mmc without the adverts:
Paid Subscription - £2.99 per month and you'll never see an advert again! (Free 3-day trial).
Subscribe here.
Content contributor - become a part of the world's biggest film and alternative photography community blog. All our Contributors have an ad-free experience for life.
Sign up here.