The Reflx Lab light meter is a very simple shoe mount light meter with an LCD screen, 3 buttons, diminutive size and a metal body. It's also really quite inexpensive. This is going to be a short review, but don't let that put you off. There's not much to say, but actually sometimes that's a good thing.
The first thing to point out about this meter is the price. It's about £40/$50. That doesn't make it the cheapest light meter available, but it's definitely at the lower end of the cost bracket. When I saw the price point, I almost wrote it off. In fact, my mind was only really changed about it when I got it out of the box and discovered that the housing – aside from the battery tray – is made entirely of metal. It doesn't feel its price at all. It feels solidly built, the buttons have a nice click to them and the movable mount fits nicely into my M4-P. Though I should say, that since it only came with one mount, there will be some cameras it's a tight fit in, and some it's loose since there is no alternate mounts an no spring or ball bearing in the mount. It's also really small. It's not quite as small as the Hedeco or Reveni, but it's not far off and looks very neat on top of my M4-P – I think so at least.
Features
The functionality of the Reflx Lab Light Meter is more in keeping with the price, that is to say it's pretty limited in its features. Of course, some of the meters I've tested such as the Voigtlander VCii are inherently very simple since they only have two "analogue" dials. The VCii is also one of the most expensive meters I have tested, so more money doesn't always mean more features, though it does tend to when the light meter is digital. This is a digital meter and has very few options. It has an aperture priority mode, a shutter priority mode, the ability to adjust the ISO and exposure compensation.
Metering range
The ISO range goes from 8-6400 in 1/3rd stops, the shutter 30 secs to 1/8000 in full stops and the aperture f/1-32 in 1/2 stops. I'm not sure the logic behind the difference between increments as it means that in aperture priority mode each shutter speed has two possible aperture values to choose from. Initially this made it seem imprecise in aperture priority mode, but I soon realised that if they had chosen full stops for the aperture priority mode too, I'd have not considered the possibility of imprecise readings between stops. And besides, shooting negative film at least, that sort of imprecision – especially with a shoe meter – is pretty meaningless anyway. Importantly, when testing it against my Voigtlander it measured accurate too – which I must admit I did not expect for such a cheap meter. It also seems to work ok in lower light… or at very least the reported range of 1-22ev seems fair.
The Reflx Lab Light Meter in use
To say the Reflx Lab Light Meter works well in lower light overall would unfortunately not be totally accurate. Since the screen is LCD rather than the more common OLED, the numbers don't display lit up and are therefore quite difficult to see in lower light. That being said, the sort of light where you wouldn't be able to see the readings at all, I'd imagine would be lower than where it would be of much practical use anyway… it just would have been nice to have a little button on the side that lit the screen up in the way a Casio watch LCD is lit. That would have given it solid nostalgia vibes for me too… of course, like a Casio watch, the LCD screen is really nicely visible in broad day light which is often the a complaint that's levied upon the OLED meters, so I suppose it's horses for courses really.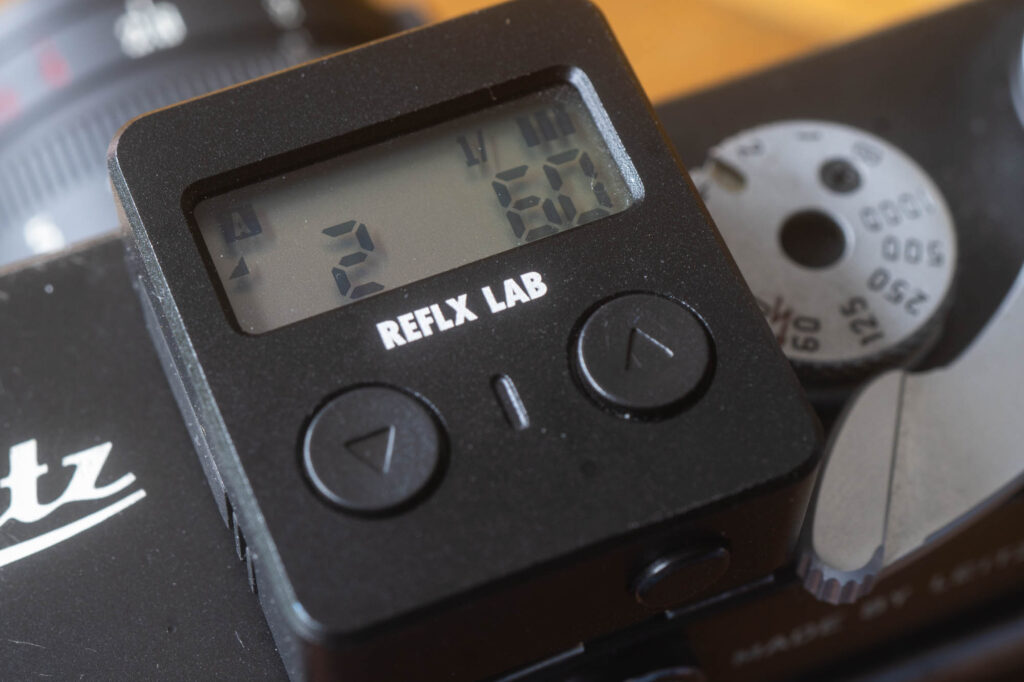 Another foible is what happens when you get to the far ends of the metering range, especially in shutter priority mode. When the aperture settings come to the end of the range, if you continue to click the button the shutter speed keeps changing without the aperture changing to match. Of course, it obvious when this is happening, but the uninitiated might find it a little confusing.
Aside from these foibles the Reflx Lab Light Meter very simple to use. Clicking the button on the back turns the meter on and takes a reading. That reading is locked in until the button is pressed again. Double click the button on the back to switch between aperture and shutter modes. Press and hold the button on the back to activate the exposure compensation. Press and hold the down button switches the meter off – though this isn't really necessary as it turns it's self off after a short time anyway. Press and hold the up button allows you to set the ISO. And that's about it really.
Battery
The final point of note is the battery. Rechargeable batteries in light meters seem to cause outrage in some people, so those people will be happy to know it takes a replaceable button cell that reportedly lasts a year. Though it should be pointed out that the battery is a CR1632 which you are less likely to find in Asda, so it's worth having a spare if you're going on holiday etc. it also actually has a battery meter, though that seems to change its mind a little occasionally so I'd not trust it until it gets specifically toward the low end of the bars.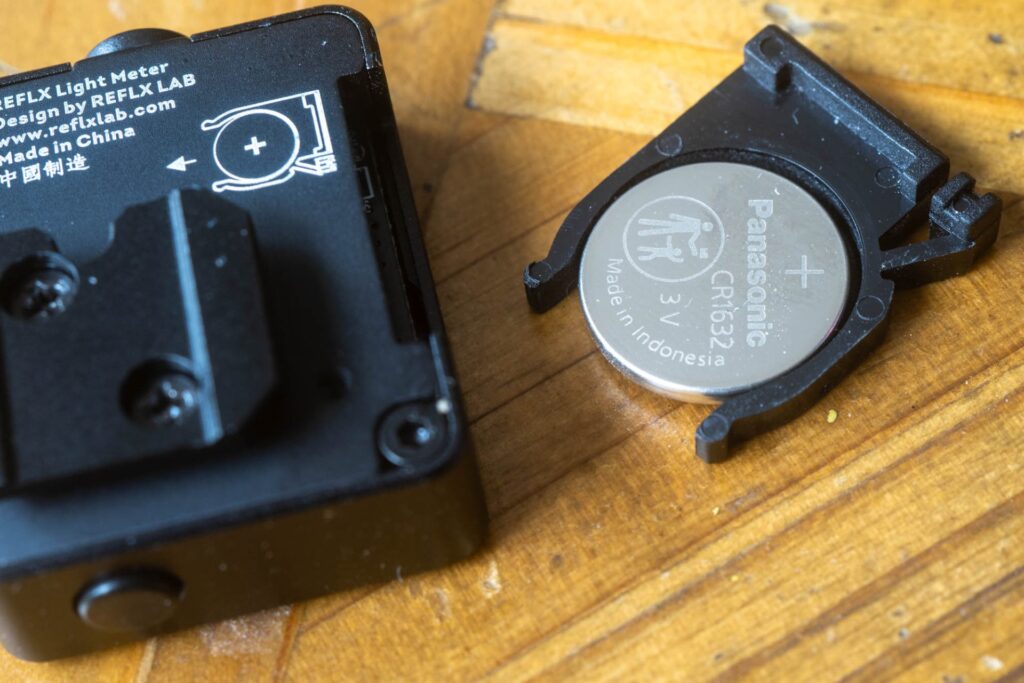 Reflx Lab Light Meter – Final thoughts
I like the Reflx Lab Light Meter. I like it more than I thought I might. It's true that it has some foibles, but those are readily offset by the low price, nice build quality and smaller size. For some, the battery will be a big factor too. Overall, I think it represents really good value.
If you would like to read more about shoe mount meters, you can see my comparison post here
The Reflx Lab Light Meter is available off their website here
Contribute to 35mmc for an Ad-free Experience
There are two ways to experience 35mmc without the adverts:
Paid Subscription - £2.99 per month and you'll never see an advert again! (Free 3-day trial).
Subscribe here.
Content contributor - become a part of the world's biggest film and alternative photography community blog. All our Contributors have an ad-free experience for life.
Sign up here.